A volunteer tubes a bird to keep him hydrated. She is putting medications into the tube, after which she will attach the large syringe filled with electrolyte or water or special formula, as ordered by our veterinarian. This is being done for all of the birds, at regular intervals. It is like an assembly line. Everything is organized, although it looks like chaos.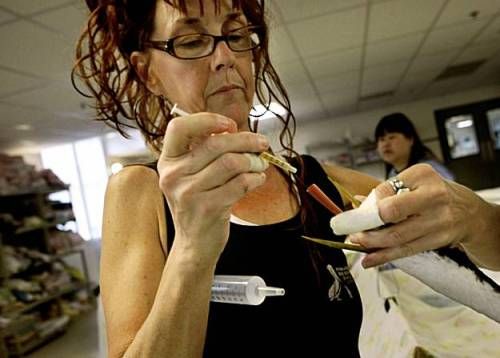 This bird is being rinsed after her wash. We used oxygenating showerheads and soft water. All of the detergent must be thoroughly rinsed from her feathers before she goes to the drying room. In the drying room, she will be placed in a net-bottomed pen with a special fan underneath directing warm air at her. The pen is covered with a sheet to keep her toasty warm.
This is one of the pelagic pools where washed birds swim to regain their strength. After they are washed, their waterproofing is thoroughly checked before they are put into the pool. In addition to our own pools, each of which is on a filter system, we have brought in temporary pools. With over 450 birds so far, we need these extra pools!
From the San Francisco Chronicle, October 28, 2009:
Quote:
The seabirds flew 700 miles from Oregon to Fairfield, but not under their own power: Stricken by toxic algae, they were loaded onto a Coast Guard plane for emergency care at a bird rescue center.
The migratory birds, including grebes, murres, scoters and loons, have lost their waterproofing ability as a result of what is known as an algal bloom, which slimes them, strips them of their natural oils and leaves them wet and cold. The more seriously affected birds drown or die of hypothermia.
The culprit is a species of phytoplankton that has flourished in the Northwest as a result of warmer-than-usual ocean temperatures. Stormy weather has churned up the water, creating a sudsy foam that disrupts the alignment of a bird's feathers, which act like shingles on a roof to protect the creatures from the elements.
Thousands of birds have died in the past week as a result of the phenomenon off the coast of Oregon and Washington.
About 150 injured birds found on beaches were taken by van from Portland to the International Bird Rescue Research Center in Fairfield, arriving Saturday night. On Monday, 305 more birds were put into crates and flown by a Coast Guard C-130 Hercules to McClellan Air Force Base in Sacramento before being brought to the center…
Each bird is expected to stay anywhere from a week to 10 days. The cost of caring for the birds is mounting, and although the treatment is similar to what would happen after an oil spill, there's no oil involved in this disaster - and that means no responsible party will foot the bill, Holcomb said.
A number of groups helped fund Saturday's transport, and the Coast Guard donated Monday's flight. But the cost of rehabilitating the birds is expected to exceed $50,000, said Paul Kelway, a center spokesman.
To read the article, go to this link:
click here
Here's a video of the hospital, made on October 30. I used my tiny Flip Video on breaks. It fits into my pocket. Sorry no footage of the washroom where the birds get baths, but most of the birds were already washed by this date. The ones waiting for a bath weren't healthy enough to wash, so they need some more time.
video:
Rescue & Rehab of Birds in Algae Bloom
We had about 80 experienced volunteers and staff. They came from wildlife centers all over California to help us! Normally, we have three staff and perhaps five or so volunteers each day.