Bitte posten Sie 2020 Kommentare für die Heidelberg Deutschland in der Nähe hier. (Palatina & Zephyr)
Please post 2020 comments for the Heidelberg Germany nest here.
(Palatina & Zephyr)
CAMS LINK: Heidelberg
(3 cams)
Pics provided by Hans-Martin Gäng showing the church in which the falcons reside, both close up and panoramic.

It is certainly lovely!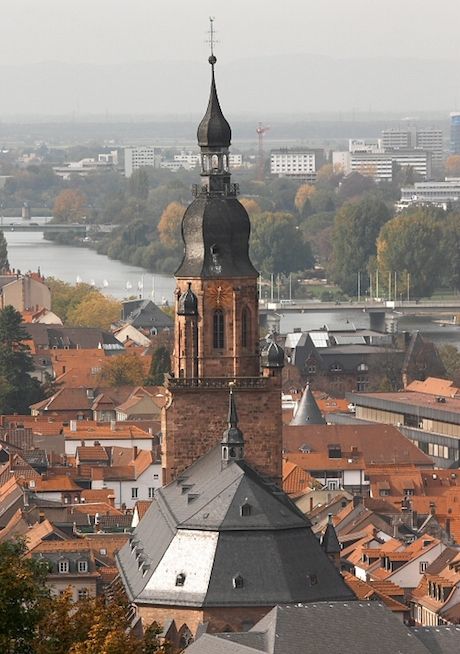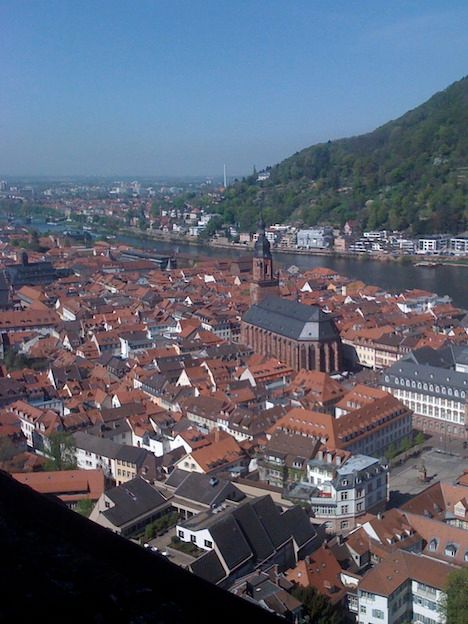 FYI for Heidelberg Falcon Fans...

Peregrine Falcons in Heidelberg-Germany/Columbus-Ohio connection


This page was found in German.

Several years ago, because of the influence of an Ohio friend, Hans-Martin Gang, a peregrine falcon enthusiast in Germany watched the Columbus Falconcam with great interest. Having worked many years with cliff-nesting peregrines, Hans-Martin wanted to focus on city-dwelling falcons and install a peregrine nesting box on top of the historic Holy Spirit Church in Heidelberg. Through his Ohio friend he made contact with me (Donna D), asking for details on the design of our Columbus peregrine nesting box. I was pleased to provide technical advice to assist with his endeavor.

The connection to Columbus continues. After Hans-Martin installed his falcon nest box, it wasn't long until peregrines moved in. The adult female in Heidelberg was named "Aurora" after Columbus' 1st nesting female! Now, several years later, the Holy Spirit Church has successfully raised several broods of peregrines and this year they again have a webcam. Check out their website, including the "Questions & Answers" section where they explain the reason of naming their adult female "Aurora."

http://www.ag-wanderfalken.de/index.php ... &Itemid=74

Hans-Martin and I (Donna D) have developed a friendship and continue to "compare notes" each year on the success of our nesting falcons!
Info below posted on March 13, 2013 by Hans-Martin.
You want to know where JETTA, PERKEO and the young falcons perch, sleep, feed and watch the air-traffic of pigeons etc. ? Today I found a photo in our local newspaper "Rhein-Neckar-Zeitung" -done by the late photographer Stefan Kresin - from the top of the "Thick Tower" of Heidelberg Castle-ruin (mind that the wall of the tower is 6 mtrs. thick!): You see, the falcons can look down to the entrance of the nestbox in Holy-Spirit-Church-steeple and guard their territory in the Neckar-valley over the historic part of Heidelberg. Small photo: Thick Tower is broken Tower at right side of ruin...