I am Ready for 2016!!
At first this season, without a banding, it seemed to be like a blow that the peregrine program bandings that I had come to look forward to, and really did not get to see but two of them, ended... however as time passes, I still look forward to finding the M's each and every time I cross the bridge as I am coming into downtown Canton, as well as turning the cam on and finding I just missed them redoing the scrape.
The excitement of driving around the blocks around the city, finding and learning where they sit, hiding perches, and seeing mostly the two sitting there, digesting a recent meal that I just missed them catching. Or the many times they leave downtown for one of their many unknown places outside of the view.
Regardless of how the peregrine is "classified" by ODNR they will always be, for me, the best use of my imagination, for they NEVER cease to keep me guessing and using all my senses to keep up with them.

This 2015 season, We were lucky with the females, to have two very distinct body shapes, as well as markings. Differences that made them very distingishable, even after they were flying about.
The males were at first easy, since you could see on the cam, one had white feet and the other yellow, but once they were flying, Maurice headed out of town somewhere with them, and Mystic and the girls hung downtown, with Maurice coming back late evenings, to roost.

Attaching some photo's for year end that for me, were the most exciting and jaw dropping moments from this season's offspring, who, per FB, and this forum section, were named, via the most votes for each name on the list.
Axel & Cooper were the boys' names. Anna & Madge were the girls' names.

Anna (left) Madge (right)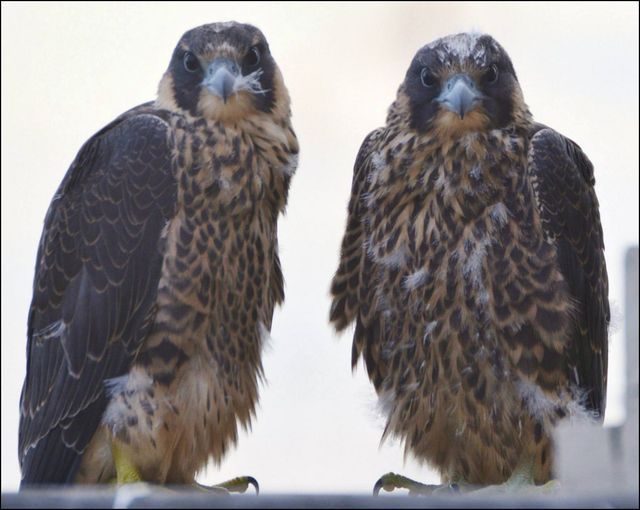 Axel
Cooper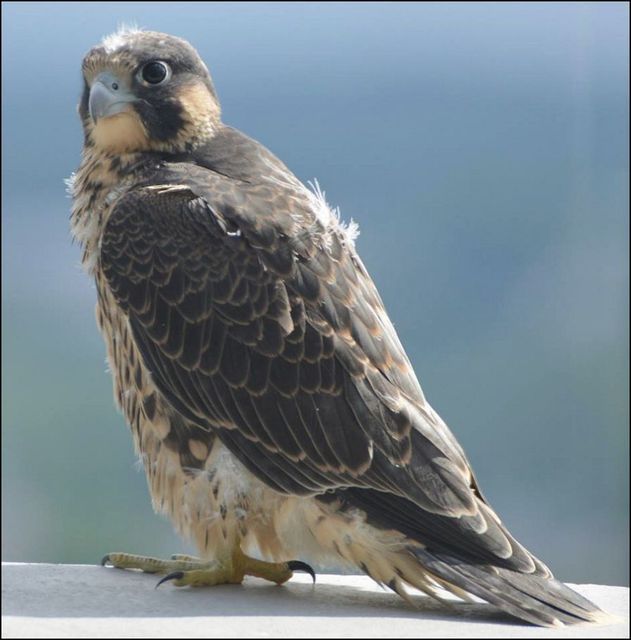 Probably THE most scary and exciting moment this year was when Mystic and Anna both refused to let go of a bird that Mystic had caught toward dark. Anna was fully capable at this time frame to catch herself prey, but she wanted to have what Mystic had, and Mystic did not want her to have it. They both went down out of sight screeching the whole way, each refusing to let go, and the whole sequence is on FB, but this one pic shows the stubborness.
All did turn out ok, with Mystic suddenly appearing from where they went down and she had the bird, but Anna followed her to the AEP tower, and then in a stunning display, Mystic then beak fed her full grown daughter. This whole event was a Double jaw drop for me!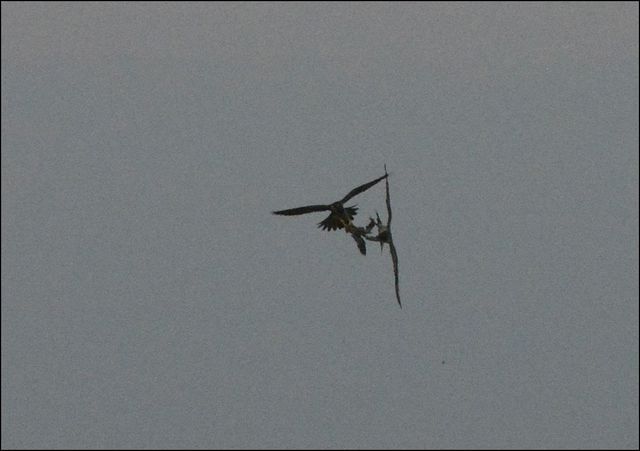 Madge was a bit slower to get moving in terms of fledge, however, when she found her wings, she was a force to reckon with. She was very husky, and seemed slower, but when she dropped this dove that Maurice gave her one evening, she rocketed after it and catching it, proving that she was faster than gravity. We actually cheered out loud when she caught it, without even realizing were were on the street. lol
And Speaking of fledging, the third best heart stopping moment for me, actually came first, when Axel and Cooper found out that climbing over one another, on a tiny ledge, along a sheer wall, will NOT end well, and they both were forced into their very first flight, together!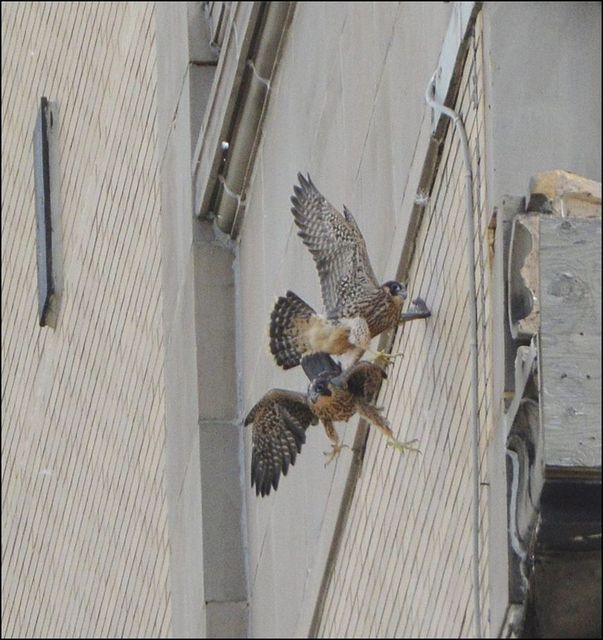 So, Bring ON 2016!! Lets hope it will be as successful as 2015, and if all goes well between the time of typing this and three short months from now, we will be on egg watch! Have a Great New Years Everyone!
Mystic