IndyStar Blog with Separate Ledge View Cam Link & Nest Box Link
Cam Link Only - Combo View of Both Cams
Indy Falcons FAQ - maps & other helpful information
Alternate IndyStar Blog & Cam Links from SusanE if having difficulty with main link.


Firefox cached link
Internet Explorer
Tips for Identification
Willow Unbanded. Arrived April 2017.
We believe this may be her first family. Her breast remains speckled.
Jeffery, 52/E~(b/bl) 2018 ~ Present. Arrived Feb 2018
and was seen alternating with Sesenta until April 2. Jeffery is a 2016 hatch from Pleasant Prairie Power Plant in Wisconsin! Parents, unbanded female and PBR 07/B (b/r)
Some of Sue H's pics from June 21, 2018
and
Jeffery's picture from banding day, May 31, 2016. He was an only chick!
See below for previous adult history at Market Tower
THE LAY OF THE LAND - OR SKY
Want to know want to know why the nest cam gets so obliterated with poop. Here is the set up.
NEST CAM SET UP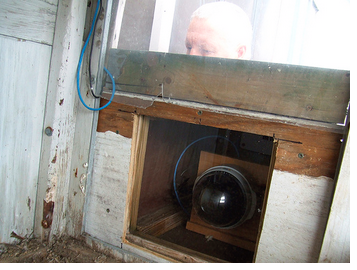 LEDGE CAM - A LITTLE HIGHER UP
PREVIOUS ADULTS AT MARKET TOWER
Sesenta ~ Since Summer 2015~April 2018
~ Band: b/r 36/R, 2012 Hatch from Market Tower Indy.
Sesenta was last seen alternating with a new male until April 2018. The last documented sighting of Sesenta was April 1, 2018 admiring his first egg, on Easter Sunday.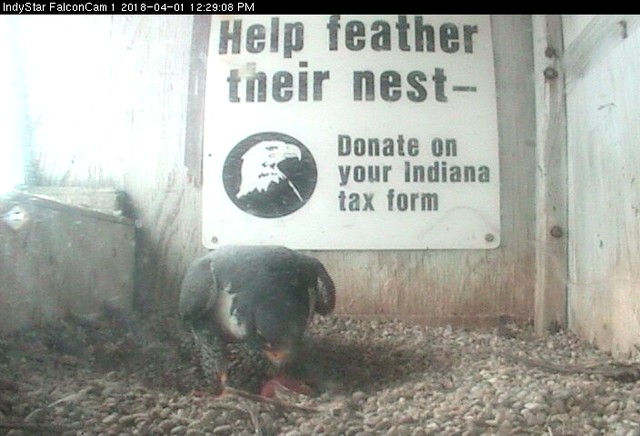 Sesenta was KathyQ's son with her long time mate Kinney. He was Kinney's 60th banded chick, hence the name Sesenta. Sesenta was observed in mid June 2014, shortly after KQ and Will's only fledgling died from colliding with a building on June 11, 2014. Watchers thought they were watching Will in the box bonding with KathyQ, but thought Will's behavior was different. Finally on June 24 a positive ID was made by Susan N, one of the Indy Peregrine Patrol members. Sesenta remains at the nest, but 2015 does not look like eggs will come. KathyQ hatched in 1998 so there are doubts about her fertility and ability to lay eggs. 2015 & 2016 There were no eggs for this pair.
Sesenta's Banding day 2012 - pics by Susan E
Male: Sesenta (b/r) 36/R
[/b] 2014 ~ early 2018
Sesenta hatched by KathyQ and Kinney at Market Tower on April 29, 2012
Sesenta was seen several times along with an unidentified banded male, who we now know is Jeffery from Pleasant Prairie Power Plant in Wisconsin.
KathyQ
2001~2017. Body discovered March 2017 in nestbox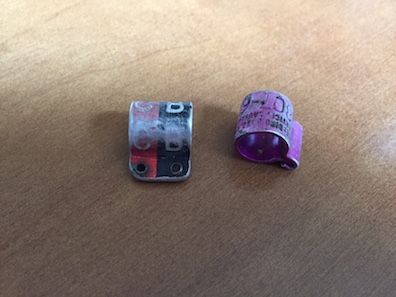 KathyQ

- Hatched May 17, 1998 at Froedtert Malt now Maleutrop Complex Milwaukee
band on the left leg is black over red *B/*

C
Will - Fall 2012 - June 2014, Band: b/r ~ 02/P
Will

- Hatched about June 6, 2011
More pictures of Will's Banding Day
Here's what the blogger for Grand Rapids Audubon had to say 6/14/11: Hatching news
"I am pleased to report that we think we have at least one chick in the nest box on top of the Kent County Courthouse. This is based on the behavior of the adult falcons, who are now standing in the box rather than laying in the box. As best we can determine, hatching probably began on
Monday, June 6th
. The chicks (also known as eyasses) are being kept covered by the adults and/or are too small to see over the lip of the nest box at this point. We hope to count little white heads by early next week."
Nest History
The following are partial excerpts from the IndyStar Official Falcon Blog by Laura James-Reim:
"
April 2005
KathyQ
is a wild-produced bird hatched on May 17, 1998 at Froedert Malt in Milwaukee, Wisconsin. Wild-produced means she is the product of parents who nested of their own volition and produced their own falcon families like our stellar Market Tower pair do each year.
However, you won't find her listed in the University of Minnesota raptor database as KathyQ. If you haven't already heard this story, I'll explain how KathyQ, a.k.a. Chantal, came to be known as KathyQ in Indianapolis. If you have heard it, please bear with me.
When she arrived on the Indy falcon scene in 2002, she didn't arrive without causing consternation among the Peregrine Patrol. We had already identified Scout, Kinney's first mate, in the nestbox at the beginning of the year when courting and mating generally begins. We even think Scout may have laid the eggs that year but shortly after they were laid, we no longer were able to identify her. A new bird was visible in the nestbox and obviously settling in to stay. Kinney was still around; the new unidentified female was there, but no Scout.
We couldn't get a good read on the bands on the new girl in town so we began to call her KathyQ in honor of Kathy Quimbach, a DNR employee who worked closely with the falcon volunteers and was tireless and passionate in her devotion to Indiana's endangered wildlife. She had passed away unexpectedly in 2001 and we wanted to honor her memory. That name was so ingrained with the Peregrine Patrol that by the time the female was positively identified as Chantal in late May 2002, we just kept calling her KathyQ.
Who knows the real saga of KathyQ/Chantal and how she arrived and triumphed in Indy? Scout's carcass was never found. It took me some time to adjust to the new falcon matriarch at Market Tower. I had watched Scout for so long and had come to know her habits - it was hard to let go. But I have grown to respect and admire the strength of KathyQ. The "style" of parenting between the two females was different in my eyes. To me, Scout seemed a worrier while KathyQ is just one fierce lady. Excellent mothers both.
In July 2012 KathyQ's long time mate Kinney was found dead on Market Tower after an apparent building collision.
AUTUMN 2012
Since the fall of 2012 an unidentified peregrine has been sighted near the nestbox and at various other sites in downtown Indianapolis. So far Indy falconheads have not Identified this bird and he (we hope) has not attempted to hop on the perch or into the nest box. Will update as necessary! Below is a picture of KathyQ and her new friend on a ledge at the First Indiana Bank Building - about 2 blocks from the nest box.
On March 5, 2013, the new guy was identified as a 2011 hatch from atop the Kent County Court House in Grand Rapids Michigan. Bands read 02/P. Since he was unnamed, John Castrale asked that we name this new boy in honor of John Will, one of the founders of Peregrine Grand Rapids, the grassroots organization that helped fund and initiate peregrine falcon releases in Grand Rapids in the 1980s.
Hence the name Will!
Kinney - resident male from 1994 - July 2012, b/r 7/*3
Kinney

- Hatched May 13, 1993 Died July 20, 2012 at 19 years of age
Kinney's Facebook page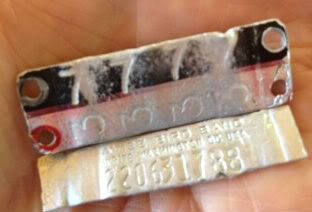 A nice article on 19-yr-old Kinney's history:
Some of you may be familiar with the story of Kinney, the male in the nest box from 1994 to July 2012. He arrived nameless but banded on the Indy scene in 1994, along with his first mate, Scout. He was from Lexington, Kentucky so folks who first observed him here called him Lex. He was later renamed to Kinney - which is a combination of Richard Kinnett's last name and the bird's home state, Kentucky.
Kinney was a rather dapper peregrine with a striking white breast, very apparent when he iwas resting and the sun was shining right on him. Falcons mate for life and it appeared that Kinney had found his soul mate in Scout. But things changed in 2002 when another female, known to Indy volunteers as KathyQ, became the new woman in town. It was probably a deadly duel that ousted Scout but no remains have been found. Between them, Kinney and Scout laid 32 eggs, producing 28 chicks (some years 4 eggs were laid but only 3 hatched). He is a good provider for his families.
Kinney definitely is the master of the skies - at least the mile square area of downtown Indy. Kinney does not tolerate intruders. I have personally observed him chasing a group of turkey vultures who really could have cared less that they had an angry peregrine falcon behind them. He has also chased great blue herons and a variety of luckless raptors who dare to invade his air space. He's even seriously harassed window washers who have had the misfortune to be doing their job on nearby buildings.
Now, as to his favorite spots. He loved the gutter of the Columbia Club located on the Circle, the antenna tower of the Barnes-Thornburg building, located on the corner of Meridian and Washington Streets. This is often a place he would escape to when the chicks are learning to fly. Another good spot - the site of the 2003 nest, is a little nook behind the Carson's building on South Meridian Street.
July 20, 2012. Laura's blog post announcing Kinney's death
The Post I Knew Would I Would Have to Write One Day…
19 minutes ago | Written by Laura James-Reim |
Toughest post I have had to put words to. Kinney is dead. His body was found on the 29th floor ledge of Market Tower. We can only speculate as to what happened, but he appears to have collided with the building.
I will post more later as this all sinks in. I know many of you will share in my sadness…but I just want to say, I am so much the richer for having had Kinney in my life.
As my friend Laura E. said, he lived his falcon life to the fullest and pushed it to the limit.
I will miss him so very much.