Moderator

Joined: Wed Jul 29, 2009 8:44 pm
Posts: 25972
Location: Milton, Pa.
Davenport Iowa update
After 15 years of nesting atop the MidAmerican Energy Co. building in downtown Davenport, the female peregrine falcon Scorpio did not return this spring and may have died, said Dave Sebben, the employee who watches over the birds.

"But it's 'the circle of life,' as they say," Sebben wrote in an email. "She would have been 19 years old this year, and that's getting to be elderly for them."

The good news is that the nest has attracted two new falcons, and the pair is sitting on four eggs.

Sebben noticed the first egg about April 10, so based on past experience, the first egg should hatch in early May with subsequent eggs hatching every one to two days after that, he said.

Scorpio and her partner, PD, began nesting in a box off the 10th floor of the building in 2003. The box was installed by the Iowa Department of Natural Resources, or DNR, to reintroduce the once nearly extinct species. Through 2014, the pair fledged 17 young.

Then in 2015, Sebben noticed that PD had been replaced. Because peregrine falcons mate for life, the only reason for his disappearance would have been that he died or was run off by a younger male, Sebben said.

But Scorpio and the new bird with a leg band identification of E60 did not raise any young and Sebben did not see the male after that year. During 2016 and 2017 there was "very little activity around the nest, certainly no eggs," Sebben said."We'd see her (Scorpio) on occasion, but rarely around the nesting box."

Perhaps Scorpio had lived beyond the age of producing eggs, Pat Schlarbaum, a DNR biologist, said.

Sebben hopes that one of the new falcons "is one of her (Scorpio's) offspring, hence, the circle of life goes on."

In 2014, Scorpio and PD were the state's oldest falcon pair, according to the DNR.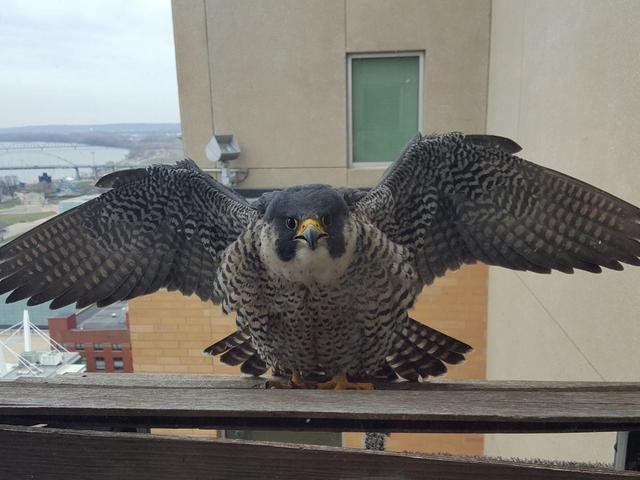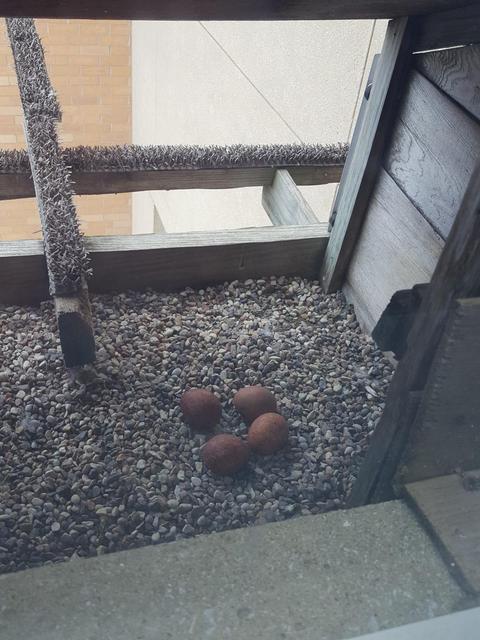 _________________
I love your solitude, and I love your pride….
Leonard Cohen