skygirlblue wrote:
Awesome!!

I thought for sure there was a way for me to clear the forum cache...but, for the life of me, I can't find it anywhere in the admin panel...so, everybody's just gonna have to do it for themselves..

(I swear its there somewhere!!!~boy this has been a long day!!)
If the white background is too bright for you, you can change the colour in your stylesheet.
I tried it with the Webdeveloper tool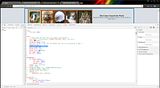 <---Click for large picture
A quick and easy fix.