I don't want to alarm any of you, but we have had a report of a possible falcon fatality on December 10. Apparently someone saw what he believed to be a downed falcon at the corner of Meridian and Ohio Streets which is just one block north of the nest box. He called the DNR to report, but did not say whether the bird in question had bands. Anna, one of the watchers who works in Market Tower immediately went looking, but could not find anything. Since then KathyQ has been positively identified on the ledge [see SGB's picture] so now we are trying to get a positive ID on Kinney. Here is the identifying info. So if anyone gets a positive ID on Kinney, please PM me. Thanks so much. gigi
Kinney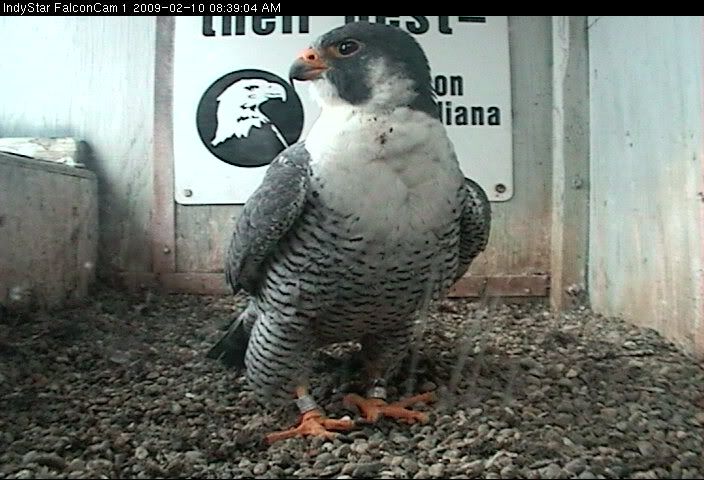 Kinney
- band on the left leg should be black over red 7/*3 but his band is so faded it can no longer be read. Both bands look silver
The number 7 is still plain to see but the *3 is all worn off.
His chest seems much whiter
He is smaller in the overall image and he tends to sit still more of the time
His wing feathers extend slightly past his tail feathers
KathyQ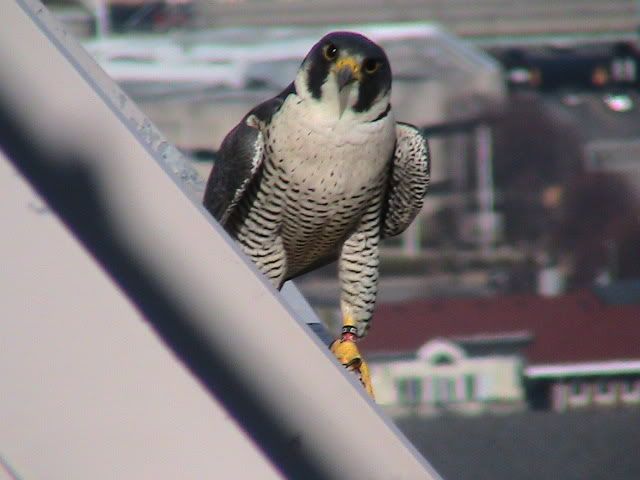 KathyQ
- band on the left leg is black over red *B/*C
*B looks like a McDonald's double arches with a underline unless she is holding her foot out, then it is B upright. The *C looks like a "fat" letter U when laid on its side.
She has more speckles on her chest.
She has a larger head when looking at their backs
From the back or side, her wing feathers are about even when perched on the inside edge