Quote:
Dyfi Osprey Project - August 7, 2017:

Several metres up, Menai was relatively safe from the visitor,
but recognising the threat she kept a close eye on him!
http://www.dyfiospreyproject.com/blog/k ... indow-open
Quote:
August 8, 2017:

What does Monty do with screaming kids when a one fish delivery just won't do?
Bring two in of course!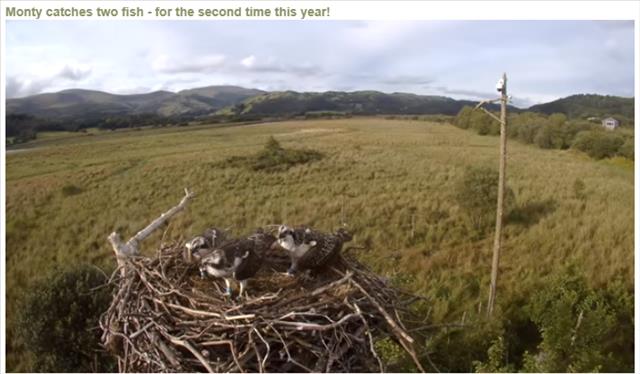 https://is.gd/HgJSmM
Monty + Two Fish
https://youtu.be/TiTFeNeGHuk
Quote:
We still have the lovely Glesni, but for how long?

It has been a fairly quiet week on the Dyfi. The chicks are all doing really well; flying around and perching by the river during the day, but returning to the safety of the nest area over night. Both parents are still bringing a ready supply of fish, so we can rest assured that Aeron, Menai and Eitha are all getting plenty each.