I watched an interesting documentary on PBS the other night, "The Polio Crusade" and it inspired me in several ways. I was impressed by the way the entire nation came together during the depression to eradicate this terrible disease.
Using a play on words "March of Time", a popular radio and newsreel series, the term March of Dimes was coined. "The March of Dimes will enable all persons, even the children, to show our President that they are with him in this battle against this disease. Nearly everyone can send in a dime, or several dimes. However, it takes only ten dimes to make a dollar and if a million people send only one dime, the total will be $100,000."
The campaign was hugely successful and the money was used to develop a vaccine and to fund treatment for those already inflicted with polio. You may draw similarities to polio and our current Covid pandemic, but that is not the point I want to make.
BCAW wants to continue but we can only do so if we have funding. I thank all members who have donated!
Moderators do their part both in donating money, but especially with the many hours spent maintaining the site. We need you, our members, to do the rest to reach our goal of $325 to cover costs for 2 years.
It does not take huge donations, but many small ones - just like the March of Dimes campaign! We have collected $200 to net $190.89 after fees ( 2.9% + $.30 flat fee per transaction). Below is a chart showing what a small donation to a larger donation can do:
Fee schedule for USA donations. International slightly more and I just accept what PayPal tells me!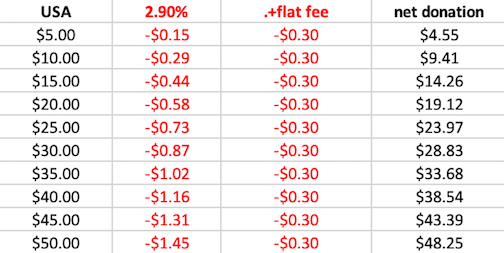 Please help us keep Bird Cams Around the World going with your donations. Large or small, we accept them all!