About a week ago, USPS in Oakland called Campos Tree Services to trim the trees with Black-crowned Night Heron rookeries because the birds were defecating on the cars. Neighbors ran out and begged them to stop, as babies fell from the trees and some were put into the wood chipper. They kept trimming. The Oakland Police arrived and stopped the trimming. A USPS spokesman denied that any birds were killed by the tree trimming.
Earlier this week, I learned that four had already been transferred to International Bird Rescue Research Center. More came later from Lindsay Wildlife Hospital. Apparently the young birds were wandering all around.
I went to the site around 12:30 today. I saw two young Herons hiding on plastic in the bushes. One seemed healthy but the other was severely dehydrated with a possible broken wing. I had towels and large grocery bags in the car, so I was able to pick up the injured one and bring him to the hospital.
I didn't get many pictures because I stopped when I discovered the injured youngster.
Two trees next to USPS with the Heron rookeries. This is a huge parking lot with plenty of room for many cars. Why park under the trees?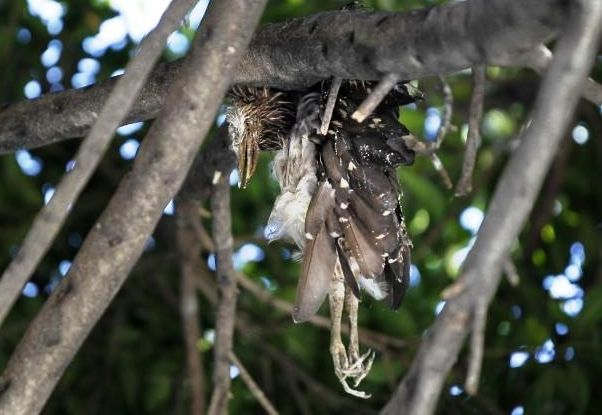 Dead baby hanging in one of the trees
Two little Herons hiding in the weeds. The one on the right is injured