Queensland, Australia
I'm not sure where to post this - I have been following the story of a baby koala who was shot in Queensland in November. Her Mom was killed, and the four-month old joey, now named Frodo, was found in critical condition with at least 15 shotgun pellets in her body. Among other injuries, she suffered a fractured skull.
She underwent two surgeries to remove some of the pellets; there are no plans to remove the rest of them, at least for now.
Earlier photos of Frodo, who is being cared for at Australia Zoo: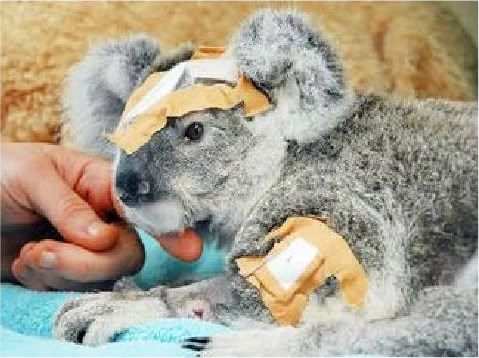 A great update on her condition yesterday:
UPDATE: Baby Koala Frodo Astonishes Vets



Happy news for the holidays: Frodo, the baby koala who was shot multiple times and left for dead, is making a surprisingly good recovery and is now at a healthy weight of 5.2 pounds, according to the vets at Australia Zoo Wildlife Hospital. She is due for another checkup after Christmas. Hooray, feisty Frodo! – Global Animal

It was an act of cruelty that shocked people across the world – a helpless baby koala targeted with a shotgun found next to the body of her mother. The tiny animal, nicknamed Frodo, received a fractured skull and gun pellets were found scattered throughout her body, damaging her intestines.

But despite her horrendous injuries and the loss of her mother in last month's attack on the Sunshine Coast, north of Brisbane, Australia, Frodo is bouncing back to health.

Staff at Australia Zoo Wildlife Hospital found wounds consistent with a shotgun blast spread throughout the youngster's body and initially feared the worst. A month later and Frodo has made an astonishing return to health.

Leading her care, wildlife vet Dr. Amber Gillett said:'I am very happy with Frodo's progress; she now weighs a healthy 2.36kg.

'Since being in care at the Australia Zoo Wildlife Hospital she has gained 400 grams which is a great indicator of how well she is doing.

'The pellets in her stomach and intestines seem to be moving around but have not been expelled, and may never be.'

'At this stage no further surgery will be scheduled. Frodo will have another thorough check up just after Christmas to reassess her lead levels.'

It has not yet been decided when the koala will be released back into the wild, because of concerns over how she would cope without her mother.

A spokesman for the zoo – set up by legendary wildlife television star Steve Irwin – said: 'Frodo has maintained her feisty attitude, active nature and appetite, continuing to move around well in her outdoor enclosure which she shares with other koala joeys.'

After the attack, Mark Townend, a senior officer with the RSPCA, said his organisation would provide any help needed to search for the culprit and bring cruelty charges. Outraged Australians have called for the person who shot the koalas to receive the same punishment.
If you look at the photos with the article, you can see that Frodo looks so much better.
A link to the original story: