Site Admin

Joined: Sun Jul 26, 2009 3:18 pm
Posts: 60861
Original post by Froona
DEATH OF A FALCON





Clearpath and Zenith




This is the story of Zenith and Clearpath of the TT, Cleveland, Ohio, and the transition to SW who is still the resident female in 2009.

Zenith fledged from Omaha, Nebraska in 1992 and was in Cleveland every spring since then. She claimed the Terminal Tower in her first summer in 1993 and mated with Szell 67Z. From the very first beginning she left every autumn for the sunny South to spent the winter.

From 1998 when Szell did not return in spring, Buckeye courted her and became her mate. He hatched from the Rhodes Tower in Columbus Ohio in 1996. As usual Zenith left in the autumn, but Buckeye did not, he stayed behind. And in spring he just could not resist all the attractive falcons that came in his territory before Zenith was back. Time after time she had to chase those females out who were occupying her nest.

Zenith was one of the most productive female falcons in the entire Midwestern population having produced 27 young through 2000.
It was bound to escalate one time, and it did. Clearpath, a young falcon that fledged from a nest in Detroit, Michigan in 1997 attempted to claim the Terminal Tower nesting territory in March 1999. However, Zenith returned and evicted her after a fight. Clearpath then showed up at Case Western Reserve University on Cleveland's eastside later that spring but failed to nest successfully.

In 2000, Clearpath nested on the Bohn Building at the edge of the Cleveland downtown area and successfully produced and fledged 4 young falcons. In 2001 Clearpath again tried to claim the Terminal Tower as her preferred nest site. Buckeye and Clearpath appeared to be getting along very well.. They were watched flying slow lazycircles in front of the building. They would dive at each other and then start flying in circles
again. A few times they were flying side-by-side.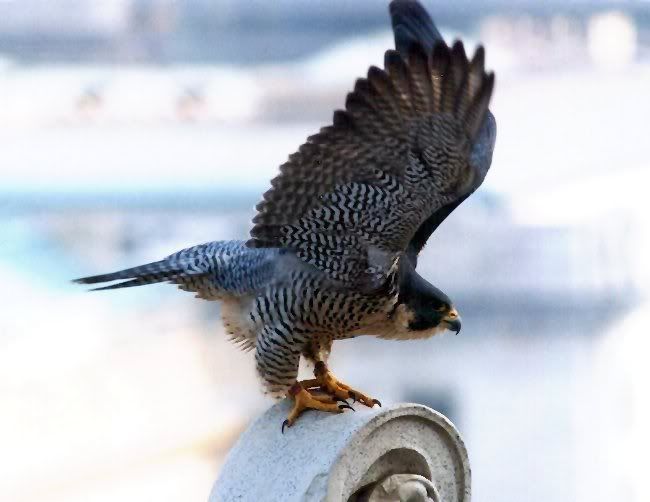 Clearpath


In the first weeks of March 2001 Buckeye and Clearpath were mating up a storm. Buckeye was a wonderful provider and left offerings of food along the ledge of the nest site for his new mate. On a few places left beheaded prey. He was keeping her very well fed. Clearpath was having a very large and extended crop. She even produced at least 1 egg and began incubating her partial clutch by Friday, March 23, 2001.




Scott Wright reports:



I was alerted via email of 3 peregrine falcons at the nest ledge and 2 females fighting this afternoon. This started happening around 5 or 6 pm Friday night (March 23). Several falconcam watchers had captured remarkable images during the attack. I rushed to the nest site and received an escort to the nest. Upon arrival and opening the first window I found two females fighting (well, one being attacked) with what looked like Zenith on top of Clearpath.

I scared the attacking falcon off when I opened up the window and yelled at this bird.Clearpath was alive and breathing very rapidly and very shallow. She was out of reach, so out the window I went and a short distance away I carefully picked up Clearpath, the entire time being buzzed by Zenith and a few half-hearted passes by Buckeye. I looked over Clearpath's injuries (and she had some serious damage). I will not go into any detail on her injuries, nor will I answer any questions on her injuries (let us just leave it at that).

I had called the Cuyahoga County wildlife enforcement officer from the Ohio Division Of Wildlife and told him prior to going to the nest that if I found an injured bird I would take the bird to Lake County Metro Parks.
During the drive, just after the Willoughby exit, Clearpath extended her wings for the final time and shook her legs as if to take flight one last time.
I like to think that her falcon sprit was taking wing and soaring off to the happy hunting ground in the sky.......


After the fight and the removal of the injured Clearpath, Buckeye bowed to Zenith, and was very submissive. Zenith removed Clearpaths egg, and returned to business. A few weeks later she laid 4 eggs, from which she and Buckeye fledged 4 healthy and strong juvemiles, These 4 turned out to be the last ones of the total of 31 she has fledged. In autumn Zenith left as usual for warmer surroundings, and Buckeye stayed behind.



Zenith


In spring 2002 a beautiful and strong young female presented herself to Buckeye. She is SW. She hatched from the Gulf Tower in Pittsburgh in 1999. Buckeye and SW engaged in courtship. He brought her loads of food and kept her very well fed. They were seen mating often and SW laid 4 beautiful eggs in the nest that belonged to Zenith.

Everybody was very concerned what would happen when Zenith would return. This strong young female could very well be a though one to defeat. Nobody had forgotten the tragedy of the year before when Zenith killed Clearpath. This was bound to escalate again.

Late in the afternoon of March 28, 2002 Zeniths silhouet appeared in the skies over Cleveland Ohio. She was cacking at SW who was breeding her 4 eggs. When Zenith arrived in the area SW left the nest box immediately and Buckeye took over the egg-sitting duty. He spent a considerable amount of time looking up at what was probably the two females.




Tony Rinicella

was there at that time. Here is his account of the battle between SW and Zenith on that Thursday, March 28, 2002:

The final Zenith thread: Rest now sweet falcon
I thought I'd be done tearing up by now, but just writing that thread subject brought out more tears again.

I take the Regional Transit (like a subway, only above ground) to work most days. It drops me at Tower City (the mega-mall that is part of the Terminal Tower complex), and I walk across Public Square to get to work. Of course, I'm always looking up in the sky or at the nest, on my way across the 2 city blocks that make up Public Square.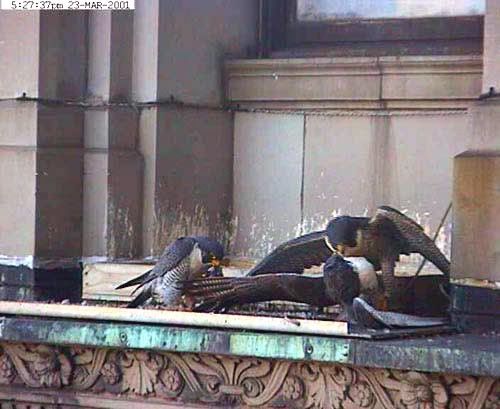 Battle Clearpath/Zenith

Today, I was a little distracted checking my e-mail on my wireless Blackberry handheld e-mail pager. As soon as I walked out of the front doors of Terminal Tower I heard something. It was a falcon making that ki-ki-ki noise, VERY loudly. So, I bolted across the street to get a better view of the nest. My jaw dropped. It wasn't one Falcon making that noise. There were two! My heart sank, I knew it was Zenith.

All I could see from my vantage point was part of the backside of one falcon and wings. There were wings everywhere, almost like they were beating each other up with their wings. I e-mailed Cecilia from my handheld immediately. "What is happening right now on the cam?". Impatient, 'freaking-out' me, I e-mailed her a second time, "Ceil what's going on!!!!". I replied to one of her earlier e-mails "Zenith's Home!". She replied to my first e-mail "Nothing out of the ordinary, why?". "Zenith's home!", I replied again. "Are you sure?" she asks. (This e-mail pager thing is awesome). "They are fighting right in front of me!", I typed.

The two falcons fell off of the ledge and smack dab into the middle of the street (why do they ALWAYS land in the middle of the street!). I freaked. I ran around a dump truck and saw one falcon on her back, the other on top of her. They stopped fighting for a second, almost as if to say "O my! We're on the ground!". City falcons rarely, if ever, land on the ground. Even if they kill a meal, once it hits they ground they won't go after it.

They broke apart and I lost site of one of them. The other started flying real low to the ground, probably 20 feet up (lower than the nest, another rarity). I saw her fly around one last time, pick up a little speed, then she slammed into the other falcon, who was right above the pedestrian area of Public Square (right above people's heads. Anyone notice? No!).

Again, I could only keep my eyes on one bird at a time and I saw the one I was watching pull up and land on a 2 foot wide ledge on the old (now empty) Dillards building. She stayed there for a second so I tried to find the other one. I saw a blur out of the corner of my eye, and turned just in time to see (at this point, because of what happened later, I now know who was who) SW come in and land on the ledge, where Zenith was.



Battle Clearpath/Zenith

I saw the flurry of wings again. The ki-ki-ki going the whole time. This went on for an agonizingly long time. Then it got eerily quiet. I knew that couldn't be good. I saw SW's head pop-up for a few seconds. She just stood there. E-mailed Ceil (there was a flurry of e-mail going on between us) "I think one may be dead". Hoping that wasn't true, and not wanting to freak anyone out I e-mailed her again, "Maybe not".

I could not see much, so I ran (I mean RAN) to my building (the tallest in town), up the elevator to someone's office where I thought I could find a telescope. No scope. ARGH! Ran up 2 more flights of stairs to another office, where I KNEW someone had a tele-scope. She was on the phone, and I just bolted right in and grabbed her t-scope. (She's cool and let's me use it whenever I want). I trained it on the spot where I thought they were and I saw them. I only found them for a second because then they dropped ("they" I thought at the time) out of sight.

Thinking they fell to the street again, I bolted back down to Public Square. I couldn't find either one of them. Emailed Ceil "Can't find them!". Then I saw a Peregrine land on the very corner of Stouffers Hotel (looking back, a perfect place for her to see the nest and the dead falcon). E-mailed "Found one, fightings stopped for now". I looked to the Dillards ledge where they were fighting. I thought I saw just the very tips of two wings. I even went and walked up one of the fountains on Public Square (they are shut off now) to see if I could get a better look. No, same two little tips.

A few minutes later, Scott showed up. I was looking for him because Ceil told me he was almost there. I swear he came out of my back pocket! (Comic Relief). I told him what happened and showed him where the wing tips were. Falcon guru that he is, he immediately said "Those are falcon wings!". We went up to to the law firm that the nest is outside of, and opened a window to get a better look.

It was a falcon. We went to the owners of the building and they hooked us up with someone that could take us into the now defunct, locked Dillards building. I hoped it wasn't my girl. Eggs, or no eggs, it's no secret that Zenith is my favorite, and I hoped it wasn't her. I couldn't remember her band numbers and asked Scott. "Black band, and the letters" (which I still can't think of at the moment), he told me.



Clearpath

We got the window open and Scott looked outside (here come tears again)....

"It's Z....".
I won't tell you the next few words that came out of his mouth, suffice it to say that he was quite upset. Her tail feathers were under some wiring that runs along that ledge, and me and Scott wonder if those wires played a part in her demise.

He went out on the ledge (mr. acrobat) and brought her in.
Scott doesn't go into details about falcon injuries or deaths and out of respect for him and Z, I won't either. She was in bad shape, already dead, and bleeding badly, is all I will say in a public forum.

I touched her talons and looked at the bands, if only to confirm with my own eyes that it was Z. I touched her belly, and it was just like I always figured it would be (as I've never touched a P-bird). Very soft, fluffy, and (still) warm. I whispered, with tears in my eyes "bye baby girl".
Scott said "She's no baby girl". Well she is and always will be, to me.....

It bothers me to think of how far she might have travelled (Central, maybe South America) just to die here in Cleveland.

RIP sweetheart. You will be missed.

I saw SW flying around at about 2:30, very briefly.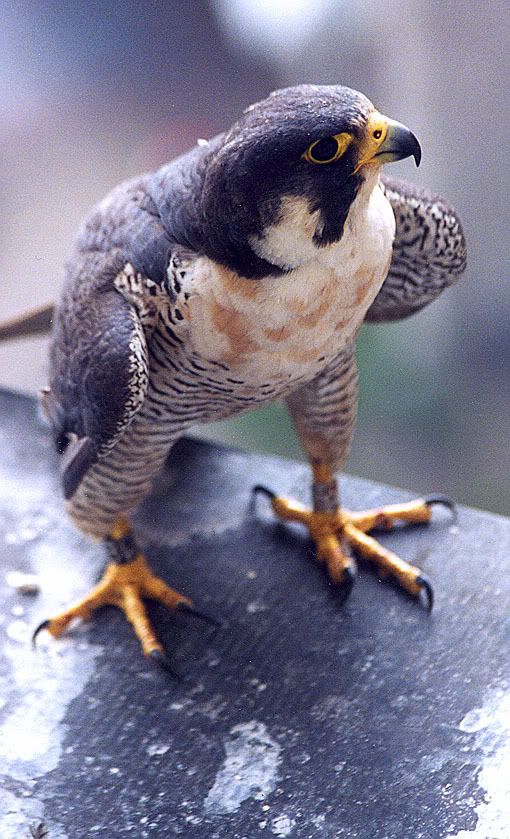 Zenith

On the way home (back across Public Square) I stopped to see if I could find SW. Finally, I did see her, 50 stories above the city buzzing the Key Tower building. She circled it a few times, wings stretched wide, hardly flapping. I saw her flap a few times and she came to a landing, nearly on the peak of the tallest building between New York and Chicago (Key Tower). It was almost as if she were saying...

"This is my town now.............".

And from

Scott Wright:



A final Goodbye
I now can post my report.

This morning she was picked up by the Ohio Division of Wildlife after a weeks stay in my freezer (much to the disaproaval of my wife) I could not post to the community with her still a chillin in my fridge.

I had spent 9 years getting to know her, I spent more time with her than with my wife during nesting time.

How can I describe her?

She was a devoted mother and a verocious defender of her nest and nest mate.

Can anything be done to prevent something like this from happening again? NO! Nature must take her path and humans can only assist when a bird is injured or worse.

She had over 30 young in 9 years, one year she laid 7 (seven) eggs, I could not find the exact number of offspring she had but I am also counting the two young that died before fledging.

Her passing touches me deeply, and words can not describe the true sadness I feel touching me.

Yes she was a wild creature, and I say I do not form emotional attachments with them, but I spent several thousands of hours with her and her chicks/fledged young.

I have rescued many young from certain death after they have landed in the street and she has greeted me at the window upon the return of her wayward offspring.

I bare the scars of her tallons on my left arm from the time I helped remove a week old chick that had died in the nest.

I had a bond with her that is hard to define, a love hate relationship that crossed the bounds of Human, Falcon limits.

So yes I was attached to her, I knew her very well.

In a way I was secretly wishing she would not return as I knew what the out come would be when she did return.

Why did I risk my life to retrive her lifeless body?

I can not realy asnwer that question, but I can offer a few thoughts that were going on inside my thick skull.



Zenith

I can say that I could not let her sit on that ledge waiting for ODW to come and get her, when they would have done so is anyones guess.

I called them as soon as I had her and they said they would send some one to pick her up, yet 5 hours later I ended up taking her home to my freezer (this in now way is ment to be a critical observation on the ODW or the ODNR, just an observation to help you all understand why I did what I did)

She holds a special place in the State of Ohio Peregrine Restoration, and I knew that she would at some point be mounted and placed in a place of honor and used to inform and enlighten people on the majesty and beauty of the Peregrine falcon.

I had to get her back inside, the longer she sat out on the ledge the longer the new female would be away from her eggs, she would continue to watch and vocalize above her.

So I went out, not a very smart idea. I had to drop four feet down to a ledge I could not see, find the ledge with my feet and not trip over the electric cables (3 of them) housed at the very edge of the ledge.

With Tony and Dan holding my right hand I leaned out as far as I could to grab her with my left arm, I was able to get her even though the ledge had a melting layer of ice and snow.

I am saddened by the turn of events, and know that Falcon life will always go on, but some how a part of the history of the Terminal Tower nest site will always carry the name Zenith.

Remember her well, and may her many offspring carry her name for many decades yet to come.

Scott

Following her death, Zenith spent several years in the care of the Ohio Department of Natural Resources, Division of Wildlife. In 2005 she was taken to The Cleveland Museum of Natural History where she was taxidermed.



Zenith

This is one of the most impressive livereports of a falconbattle I have ever red. I wonder if there ever will be a time I can read it without crying.

Territorial battles are a part of the peregrine falcons life. They are warriors, these beautiful creatures. Raptors, birds of prey, they hunt and kill every day to survive. They live their life with so much passion; they completely surrender themselves to the intense life they live. When it comes to reproduction they defend their nest, their partner, their eyases with their life.

Sometimes, especialy when someone dies we all love so dearly, this circle of life seems so cruel. But it is not, it is a promise, no a guarantee that life always goes on, no matter what. Only the form in which it presents itself changes. Not the essence, which is love.

Clearpath, Zenith went into a battle with courage, as all falcons do. A battle which only one would survive. They knew that. This day was a good day to die. Any day is a good day to die when you live your life without fear, because only then you are truely free. Any day is a good day to die when you live your life to the fullest. As Zenith did, as Clearpath did, as all peregrine falcons do. They live their life with passion, and die their death with passion. She gave her life for live itself, Zenith died with honor, as Clearpath did.

Their wings touched eternity on that last flight..Now they both will live on in our memory, in their offspring to which they passed their genes. They both are beautiful, majestic, honorable falconspirits.
We will never forget you, Zenith and Clearpath we will always love you both for who you still are.
Fly free, soar high Clearpath and Zenith